This beautiful spot will keep on drawing you back
Part of our property was once a plantation, and a short distance from Booyong and Kamala, our Rainforest Canopy Bungalows, is the orchard. This calm, picturesque spot is an ideal place to bask in the morning sun with a Picnic Pack. Enjoy views to the mountain ridge above, and feel free to try our organic fruit when it's in season.
As much of the orchard is on a hillside, we recently added a small grassed platform which is a cosy picnic rug size. Now you can relax in complete comfort with food and drink and enjoy the serenity, privacy and of course the amazing view.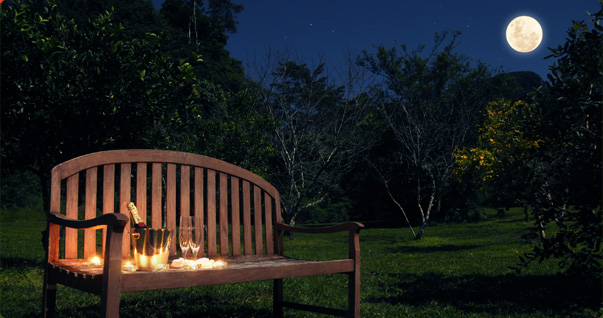 In the evening it's a wonderful experience to sit quietly in the orchard and watch the night descend. Then you can snuggle together and contemplate the moonlit rainforest surrounding you with candles, a platter and a bottle to share – and looks especially amazing during a full moon.